Our local chapters carry out our mission of volunteering for communities and advancing local education initiatives.
2018 Scholarship Winners Announced
Each year, the Indiana Retired Teachers Foundation awards scholarships to juniors or seniors in an Indiana college or university who are in a program leading to a degree in education. With 10 Areas representing the Indiana Retired Teachers Association, there were seven scholarships that were awarded for the 2018-2019 year of college.
The following students are the 2018 winners: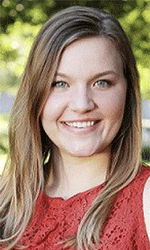 Leah Hefty, Area 2, DeKalb County

Leah is from Auburn, Indiana. She is a junior at Purdue University, West Lafayette, and is studying Agriculture Education. Leah learned of the scholarship opportunity from her grandfather, Mr. Ronald Hefty from Auburn, Indiana, who is a member of Indiana Retired Teachers Association. Leah is actively involved with Campus House Church while attending Purdue. She has studied abroad in Peru. She has served on numerous committees while attending Purdue, is on the Purdue Cooperative Council, and has been a member for two years of Indiana Association for Agricultural Education. Leah wrote that she will strive to make an impact on the learning of future members of society.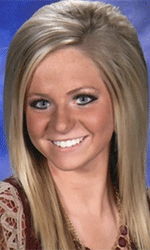 Whitney Halfhill, Area 4, Clay County
Coming from Brazil, Indiana, Whitney is a senior at Indiana State University, Terre Haute. She is studying to be an elementary school teacher. She learned of the IRTF Scholarship opportunity from her mother, Marlene Halfhill, who is also a teacher. While attending high school, Whitney was very involved with 4-H. Since high school, Whitney has remained active in raising and showing beef, swine, and horses. She also works as a substitute teacher with Clay Community Schools. Whitney wrote that she wants to make a "positive difference" with the lives of the young people she reaches through teaching.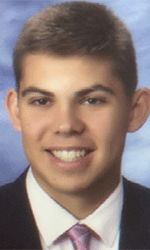 Jackson Williams, Area 5, Johnson County
Jackson, from Johnson County, attends Franklin College where he is a junior this year. While in high school, Jackson was actively involved as a Center Grove Middle School Tutor, a cadet teacher, and a high school teacher's assistant. While at Franklin College, Jackson is on the Varsity Men's Golf team. He served as the Gongaware Kids' Golf Academy Leader for one summer, and was a JV basketball coach at Greenwood Christian Academy for one year. In Jackson's words he wrote, "As I look to my future, I aspire to be a fourth generation public educator." Jackson is very passionate for teaching young people. He hopes to one day work at a high school teaching in government and economics and earning a varsity basketball coaching position.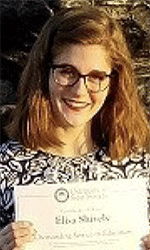 Elisa Shively, Area 6, Wells County
Elisa is from Ossian, Indiana, and attends the University of Saint Francis in Fort Wayne. She is now in her senior year. Elisa learned of the scholarship opportunity from her Aunt Kathy Lepper, a resident of Fort Wayne and member of Indiana Retired Teachers Association. Elisa's majors are Special Education, PreK-12 and Elementary Education. She has an incredible amount of experience in both high school and college marching, pep, and concert bands! Now in her senior year at Saint Francis, Elisa holds the position of Vice President of Kappa Delta Pi Society. She also currently serves as the president of the education club, Educator's in Action (EIA). Part of EIA's mission is to serve the teaching profession by providing professional development opportunities for teacher candidates and service opportunities for local elementary students. In one of Elisa's professor's words, "Elisa embodies this mission and is the main facilitator of a number of the club's outreach events."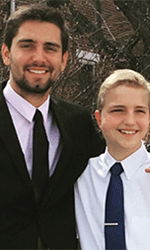 Samuel Crider, Area 7, Franklin County
Samuel Krider is the Area 7 Scholarship winner from Franklin County. Samuel is a junior at Indiana University, Bloomington, and is working toward a BS in Education with a major in Special Education- Secondary Based. Samuel's grandmother, Barbra Walter, from Cedar Grove, Indiana, is a member of Indiana Retired Teachers Association and the person that gave Samuel the information about the scholarship. While in high school, Samuel learned of a program called Unified Track. This program gave Special Olympic athletes the opportunity to compete in a varsity sport with other high school athletes. "As soon as I heard about this opportunity," Samuel wrote, "I knew that I had to be a part of it." Samuel said that through the program he was able to work with kids with disabilities and build relationships with them as well. Samuel knew he was making a difference in these children's lives that he knew they may not have otherwise gotten.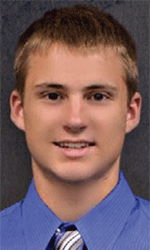 Cayden Knies, Area 9, Dubois County
Cayden, from Jasper, Indiana, attends University of Southern Indiana. Diane Jahn, his aunt and also a member of Indiana Retired Teachers Association, is Cayden's sponsor for his scholarship award. While in high school, Cayden held various leadership positions, including the president of the Spanish Club, secretary of Fellowship of Christian Athletes, and secretary of the Freshman Class. He competed in numerous academic competitions and was a member of the Student Council, Beta Club, Spirit Club, and the School Improvement Team. During his senior year, Cayden was a cadet teacher at Dubois Middle School. While attending Southern Indiana in Evansville, Cayden is a member of the Newman Catholic Community of USI, a member of the USI Teaching Eagles program, and a participant in the USI Intramural program. He also has volunteered at competitions such as the engineering competition called SeaPerch and the Indiana State Mathematics Contest.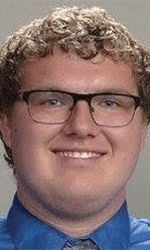 Nathaniel Walter, Area 10, Ripley County
Nathaniel is from Ripley County and is now a senior at Marian University, Indianapolis. Nathaniel is working towards his BS in Education with a Major of Chemistry in Secondary Education. Nathaniel has been active in Marching and Concert Band during his college stay and has also participated in a percussion ensemble. He is a member of Sigma Zeta and Kappa Delta Pi. Nathaniel learned he loved to help others while in high school when he discovered one day he was able to help others in his physics class. It was then he realized he enjoyed helping people understand concepts hard to understand.