Our local chapters carry out our mission of volunteering for communities and advancing local education initiatives.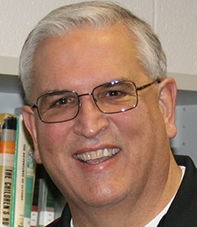 Email: davlenn@nwcable.net
Phone: 812.254.2080
David Lennen, Daviess–Martin Retired Teachers Association, is serving his first term. David is filling the position vacated by Paula K. Jones, who was elected Secretary–Treasurer of the IRTA in June.
A graduate of Indiana University, David retired from the Washington Community Schools, where he taught Spanish for 36 years. His wife, Ramona, a graduate of Oakland City University, retired after 39 years of teaching First Grade at Barr–Reeve Community Schools.
David and Ramona have two children. Amanda is an Indiana University graduate, lives with her family in Terre Haute and works as a chemist for Elanco. Christopher, also an IU graduate, lives in Phoenix, Arizona and is a high school Social Studies teacher in Mesa.
David stays busy in the community by volunteering for the United Way, the Daviess County Community Foundation and the Jubilee Christmas coordinating committee and serving as treasurer for his church. He and Ramona also enjoy visiting with their grandchildren in Terre Haute, attending IU football and basketball games and traveling.