Our local chapters carry out our mission of volunteering for communities and advancing local education initiatives.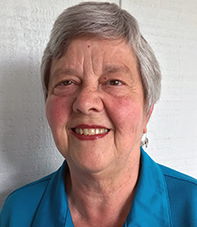 Email: eomulford@hotmail.com
Phone: 812.689.5255
Ellen taught Kindergarten and First Grade for 45 years, before retiring in 2012 from South Ripley Community Schools where she spent 43 years. She received her Bachelor's Degree in Kindergarten-Primary Education from the University of Cincinnati and her Master's Degree with a Reading Endorsement from Indiana University.
Ellen was actively involved in South Ripley Classroom Teachers Association throughout her career - serving as President, Secretary and a member of the negotiating team for many years.
Ellen is involved in the Versailles community where she is an active member and officer in Tri Kappa, Big Oaks Conservation Society and Ripley County Retired Teachers Association. She is organist and pianist for Olean Lutheran Church and volunteers as fundraising organizer for the South Ripley Elementary PTO.
Ellen and husband – retired family physician Dr. Bob – raised daughters Erin and Megan on a farm just a few miles from the South Ripley schools and the town square where he practiced medicine for 40 years.
In 2012, Dr. Bob and Ellen decided to change from row crop farming to natural habitat restoration. Capability Farm is now a nature conservation preserve where the Mulfords practice natural resource management and enjoy sharing nature's wonders with four grandchildren – Meredith, Nora, Grady and Bodie. Various workshops, regional and state meetings and educational opportunities for others have been hosted at Capability Farm.
Ellen still enjoys teaching and showing others the amazing metamorphosis of the monarch butterfly as she did each year with her students.