Our local chapters carry out our mission of volunteering for communities and advancing local education initiatives.
Foundation supports Jasper students' literacy efforts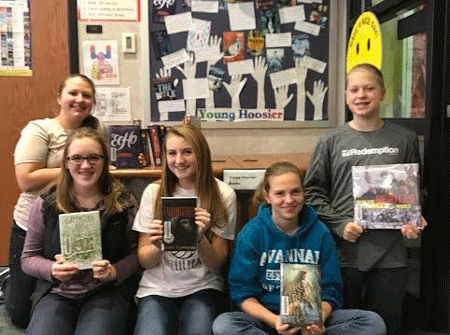 An Active Teacher Grant from the Indiana Retired Teachers Association Foundation is helping a group of middle schoolers with their reading skills and getting them more connected to their community.

Jasper Middle School students this spring can participate in the school's literacy program that features 20 Young Hoosier books.
The Young Hoosier Book Award list is selected by members of the Association of Indiana School Library Educators (AISLE), an association of the Indiana Library Federation. Each year, committee members pick 20 nominees for each category (Picture Book, Intermediate, Middle Grades) from titles suggested by teachers, students, parents, public librarians and media specialists throughout Indiana.
The Jasper program aims to have students in Grades 6 through 8 read five or more of the year's books that are high interest, recently published and range in difficulty.
"Not only do they promote literacy, but they foster a sense of community among the students and staff who participate," said Kari Schaefer of the Greater Jasper Consolidated Schools in Dubois County.
Schaefer said the students will be using Accelerated Reader, an online program that helps manage and monitor students' independent reading, to track student process.
To help promote the program, the library and media center will be hosting a spring breakfast for all students who achieves the goal of reading at least five of the 2016-2017 selections. Jasper educators hope to have at least 100 students reach that goal.
Schaefer said the purposes of the project are to generate energy and excitement around the books while honing the literacy skills needed to effective interpret and connect with today's world.
"We are thrilled to be recipients and excited about the implications for our literacy program," Schaefer said.
The Foundation's grant of $500 is helping pay for four sets of the Young Hoosiers books. Other local community contributions also will help with expenses.
IRTA's Foundation provides one-time grants to active teachers who foster creativity in the classroom. These special grants provide additional funds to public school educators (Pre-K through 12 who are Foundation members) so that their students will have the means to participate in special projects. One grant is awarded in each of the 10 Indiana Retired Teachers Association regions.