Our local chapters carry out our mission of volunteering for communities and advancing local education initiatives.
Grant helps English Language Learners program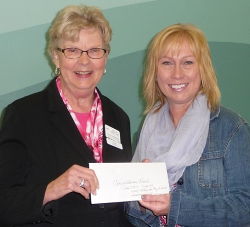 Lois Luken & Pamela GrantlandIndiana Retired Teachers Association Area 10 Director Lois Luken, left, presented an Active Teacher Grant from the IRT Foundation to Pamela Grantland, right, a teacher at Silver Creek Primary School in Clark County.

Pamela plans to use the grant to provide the classroom with supplies, resources, and information to parents to better support the English Language Learner program.