Our local chapters carry out our mission of volunteering for communities and advancing local education initiatives.
Grant will help 5th Graders produce newscasts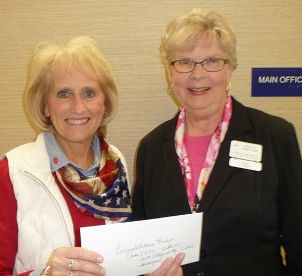 Becky Baker & Lois LukenBecky Baker, left, a teacher at Brownstown Elementary School in Jackson County, received an Active Teacher Grant from the IRT Foundation presented by Area 10 Director, Lois Luken, right.

Becky's plans for the grant is to fund an Apple-iPad Air 2 Wi-Fi 64 GB to excite students to compose, produce and video their own newscast and share it via the latest technology to the whole school.
The students will be able to continue to learn more grow, and excel in many technological and educational aspects.